– WELCOME TO KNOX PRESBYTERIAN CHURCH IN MANOTICK!
We are a church family that enjoys joyful worship in a warm and friendly atmosphere.  We believe that God's saving grace, given through Jesus Christ is offered to all, and that we are called to share God's saving love within our immediate, local and global communities.  If you are looking for a church home, please feel welcome to join us.
I rejoiced with those who said to me, "Let us go to the house of the Lord."
Psalm 122:1
Come Now is the Time to Worship
Knox is reopening for Worship 
Gather with us on Sundays at 10am for in person worship . Ontario Public Health regulations require that a record of attendance be made for contact tracing. Therefore, participants must register to attend a worship service by registering at this link or sending an email to knoxmano@bellnet.ca or calling the office at 613-692-4228 before 5pm each Saturday. By registering you also certify that:
1) You have no COVID symptoms;
2) You have not knowingly been in contact with someone who has tested positive;
3) You have not been outside of Canada in the last 14 days.
Masks and physical distance requirements while in the sanctuary apply. Your co-operation is appreciated. For those who are not able to gather for in person worship gatherings, Knox Online Worship will still be emailed to you on Sunday afternoons after the Sunday recordings are done.
 If you have any questions or concerns, you are asked to contact your elder, or speak to Rev Phil Kim at rev.philknox@gmail.com or 613-402-4228.
Each week, the link for the online worship services will continue to be posted here for quick and easy access:
Sunday, October 3rd 2021 – Online Worship Service
Sunday, October 10th 2021 – Online Worship Service
Sunday, October 17th 2021 – Online Worship Service
Sunday, October 24th 2021 (175th Anniversary Celebration) – Online Worship Service
If you would like to contribute to the church while the worship services are cancelled, there are several ways that you can do so:
Make a cheque payable to Knox Presbyterian Church, Manotick, and mail it to:
Knox Presbyterian Church
5533 Dickinson St.
P.O. Box 609
Manotick, Ontario
K4M 1A6
2. Click on the following link & contribute to the general expenses of the church. Please note that you will receive a tax receipt by email Donate to Knox
3. Contact Ardi Williams by email at ardiwilliams3@gmail.com and arrange to automatically contribute monthly to the church using our PAR program.
Office Hours: Our office hours are normally Wednesday, 8:00am-10:00am, Thursday 9:00am-3:00pm, Friday 8:00am-12:00pm. Please note that the office administrator will not be in the church while the worship services are cancelled.
A PUBLIC COMMITMENT:
If you love the Lord Jesus Christ and are committed to Him and His Church, come and declare it before others. Our Lord has taught us that "Whoever acknowledges me before others, I will also acknowledge before my Father in Heaven" (Matthew 10:32). We invite all who are interested in professing their commitment through baptism, an affirmation of faith or membership in Knox, to speak to Rev Phil Kim at rev.philknox@gmail.com or 613-402-4228.
WORSHIP SERVICES:
Our worship services are Sunday mornings at 10 am.  Nursery care is provided for children up to, and including 3 years of age. There is church school for children in kindergarten and up to and including grade 5.  The youth, grades 6 – 12, also meet during the service to study the Bible. Most Sundays, following the worship service, we enjoy fellowship in the church hall.
BUILDING FOR THE FUTURE: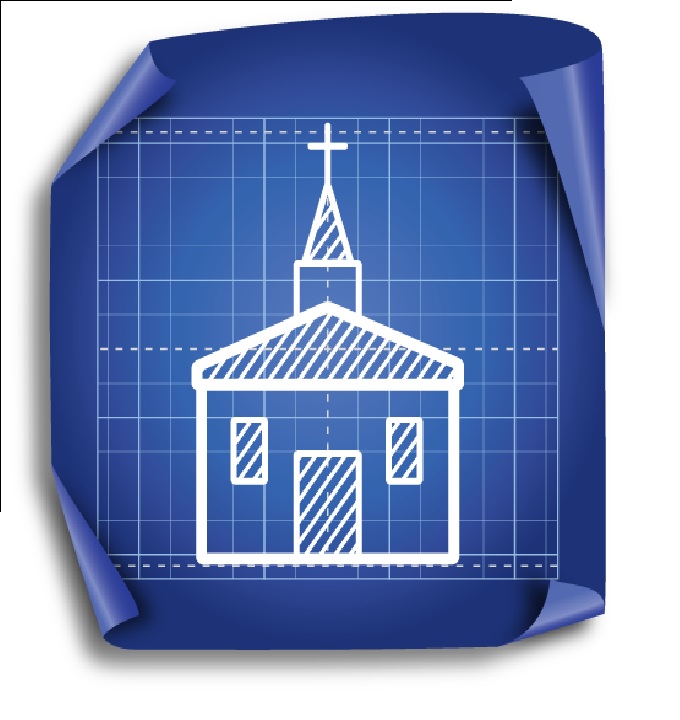 Building for the Future – at Knox we want to look ahead and move forward to continue God's work. The Elders at Knox would like to encourage the congregation to join with the leaders to focus on two goals: 
1. To continue to work on the vision of Knox.
2. To work on the Accessibility Project by the raising of funds. 
Accessibility Project
  Making the Gospel Accessible to All
On Sunday 22 September 2019 following the morning service, we celebrated the start of our accessibility project with a sod turning ceremony. The addition will include a lift providing access to the sanctuary and lower levels, a new ground level entrance, a large, open congregational space, a classroom/multi-use room and an enlarged accessible washroom. The construction was originally scheduled to be completed in the spring of 2020.
Please note that construction is currently on hold.

If you would like to donate to this project online, please click on the following link : Donate to Knox  Click on the drop down menu & choose: 2. Accessibility Project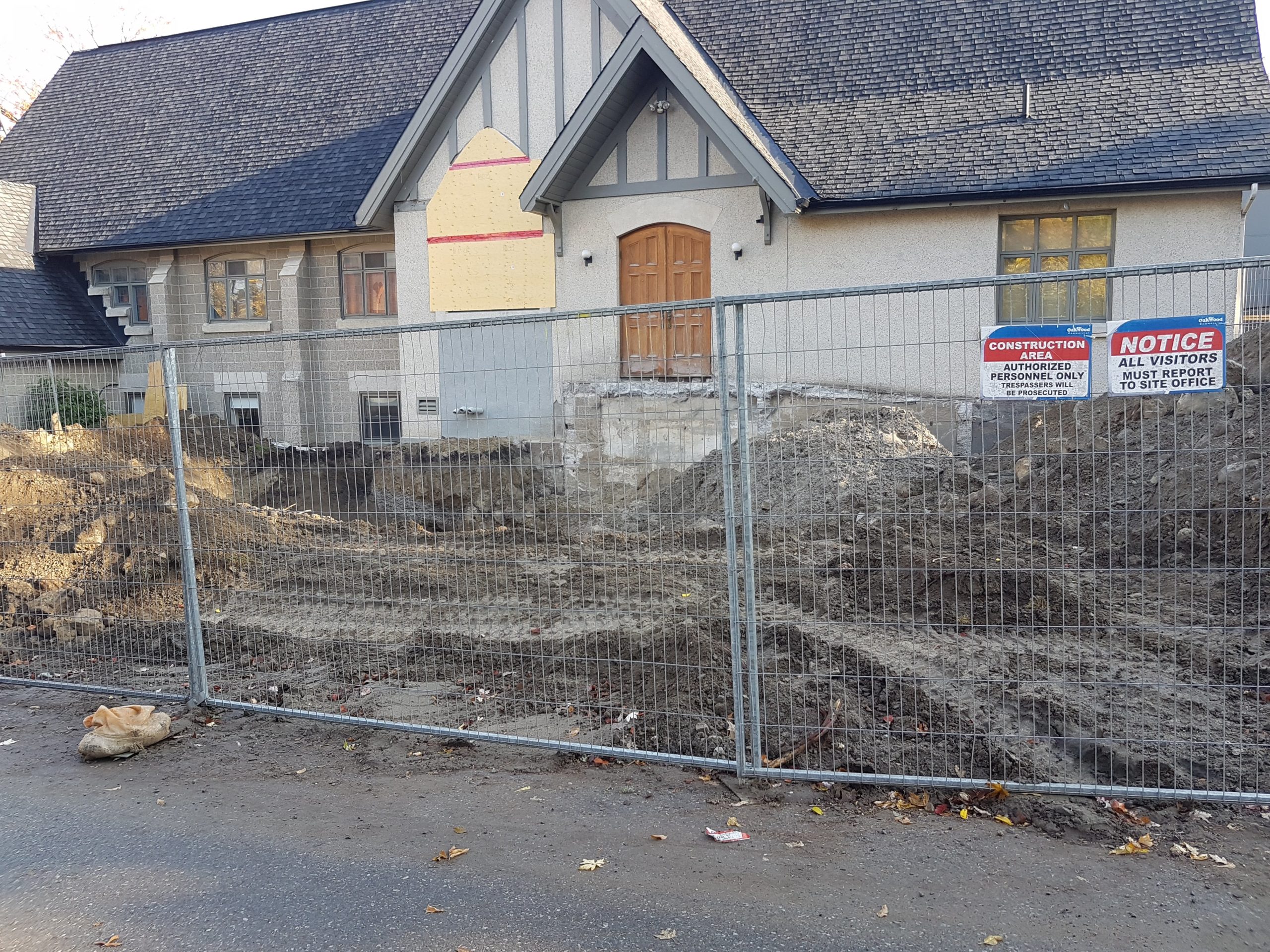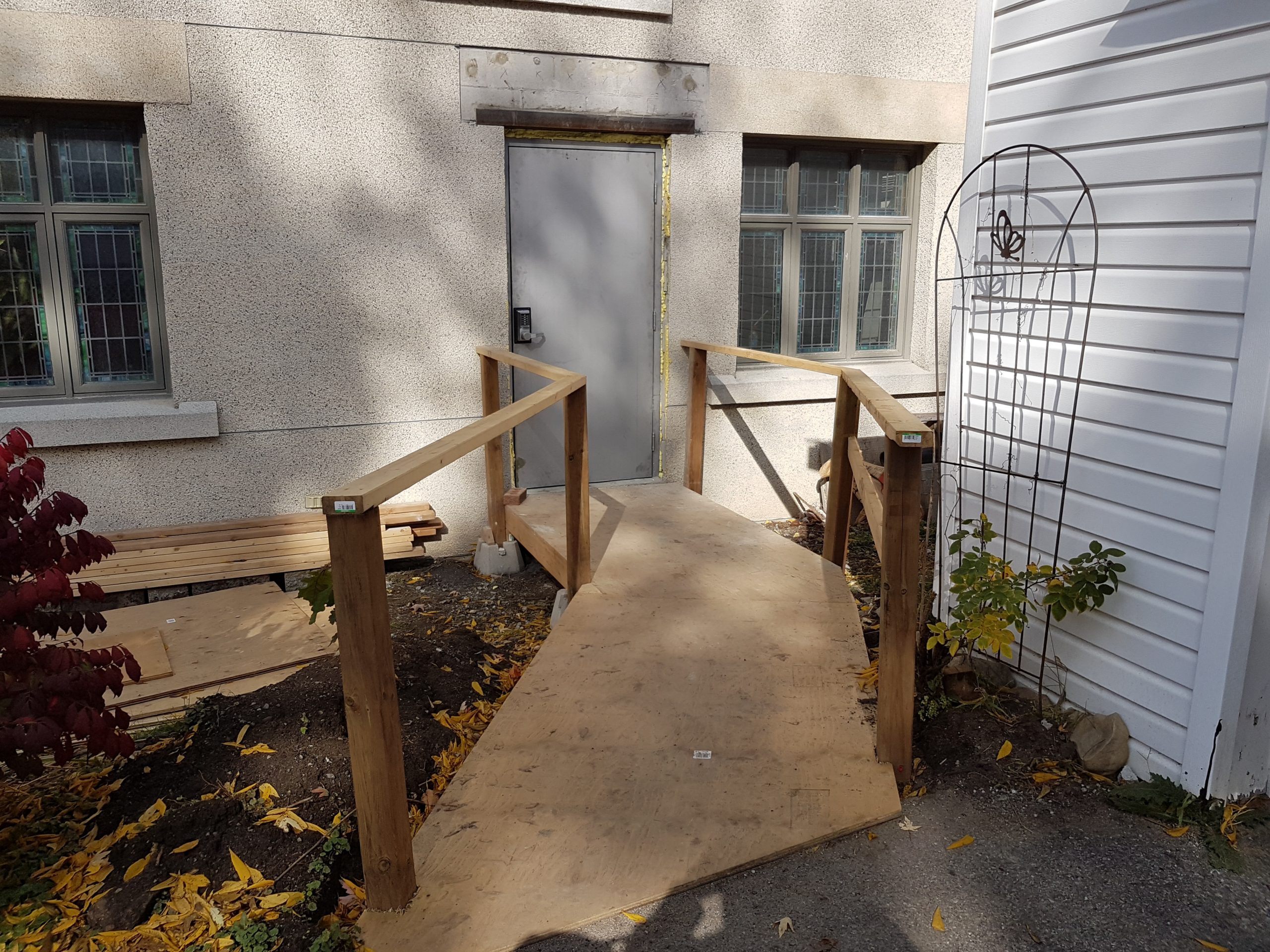 WITNESS
Knox Church supports the Manotick Food Cupboard which provides assistance to individuals and families in the Manotick area.
UPCOMING EVENTS