Youth church school is available during non-communion Sunday Services.  The youth program integrates bible study, social gatherings and community service. The youth program incorporates two groups: grades 6-8 (middle school) and grades 9-12 (high school).
Youth Group
Youth Group will now be 4:00-6:30pm on Sundays (dinner provided)
Dates: Stay tuned for the dates for 2018/2019
Youth at Olde-Fashioned Advent Event – December 7, 2013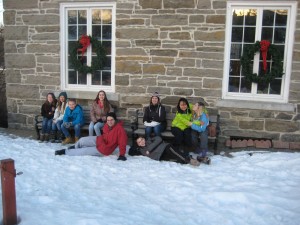 Rock the River 2012! Check out an article and more here.
Youth Activities
Sunday
Awesome
Bible
Blessings
Amen
Trinity
Holy
An acrostic poem by the Knox Youth Class