The Nurture Ministry has the responsibility of co-ordinating activities concerned with the welfare, spiritual nurture and well-being of the congregation.  This team has two elders, one of which is Convenor and many dedicated volunteers.
Be devoted to one another in brotherly love. Honour one another above yourselves. Never be lacking in zeal, but keep your spiritual fervour, serving the Lord. Be joyful in hope, patient in affliction, faithful in prayer. Share with God's people who are in need. Practice hospitality.    Romans 12: 10-13
The Nurture Ministry consists of the following groups:
The Pastoral Care Team consists of eleven people who care for members of our congregation.  Folks are visited or phoned on a regular basis.  When anyone in the congregation is ill or hospitalized, a member or two of the team are there to visit or lend a hand as needed.  Meals are also prepared and delivered when required.
The Seniors' Ministry is dedicated to serving and preparing a Christmas event for the Just Older Youths (JOYs) in the congregation.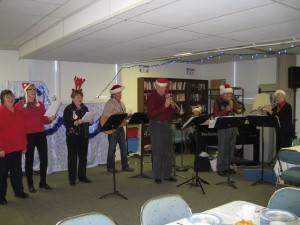 The Women's Ministry is run by two Coordinators along with a dedicated planning group.  Their purpose is "To be women of faith encouraging one another to develop their God-given gifts for service in Knox Church (Manotick), the community and the world."  They provide the women in our congregation and their friends with wonderful events throughout the year.  Their biggest event is the annual retreat which provides a relaxed atmosphere filled with laughter, sharing and God's presence.
Many Knox Knitters love to create beautiful handmade pieces to send to those in need.
The Men's Ministry coordinator forms work parties within Knox Church to complete various church projects during the year.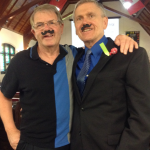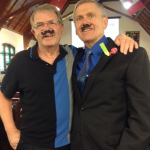 The Care Group Ministry consists of four group leaders who conduct bible studies in their homes in the evening or during the day.
The Prayer Line has twenty-four warriors who are at work whenever the prayer line receives a request.  What a comfort to those in need! Prayer is powerful and when requests go up to God the Creator, He hears and He answers.
The Library Ministry is run by a Coordinator/Librarian and seven dedicated volunteers who receive and sort donated books, tapes, DVDs and VHS cassettes.  Some of the books are donated to Christian Salvage Mission (CSM) for distribution in foreign countries and cancelled stamps collected are sent to CSM to assist them in financing their operations.
The Hospitality Coordinator serves as the point-of-contact for all hospitality related items and events in the congregation.  These range from potluck lunches to summer lemonade on the lawn to a welcoming cake for new members, to providing refreshments following a funeral or a Christmas concert. The coordinator in turn asks one of the women's working groups to assume responsibility for the given activity.  Many wonderful volunteers serve the Lord by participating in this ministry of hospitality.
The terms of reference for this ministry can be found here.