The Finance and Maintenance Ministry (F&M Ministry) is responsible for overseeing all financial aspects of the church under the oversight of the Session. An annual budget is presented to the congregation for its approval at the annual meeting.
Its mandate also includes on-going maintenance of the church building, fundraising, preservation of archival materials, the Memorial Book updates as well as Stewardship encouragement. Finally, this ministry is also responsible for ensuring that the positions of Office Administrator and Building Custodian are capably occupied.
The earth belongs to God! Everything in all the world is His.     Psalm 24:1
God has given each of us the ability to do certain things well. So if God has given you the ability to prophesy, then prophesy whenever you can – as often as your faith is strong enough to receive a message from God. If your gift is that of serving others, serve them well. If you are a teacher, do a good job at teaching. If you are a preacher see to it that your sermons are strong and helpful. If God has given you money, be generous in helping others with it. If God has given you administrative ability and put you in charge of the work of others, take the responsibility seriously. Those who offer comfort to the sorrowing should do so with Christian cheer.     Romans 12: 6-8
The F&M Ministry meets bi-monthly.
The F&M Ministry is currently composed of three elders (one of whom is the convenor), 8 members elected by the congregation for three-year terms, the treasurer and the envelope secretary (appointed by the congregation) and the minister (ex-officio).
The terms of reference for this ministry can be found here.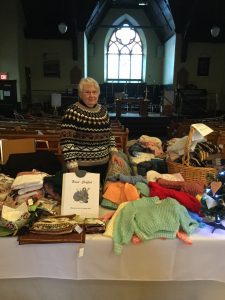 Nov, 2017 – Shirley Deschamps with the beautiful knitted garments that she made and sold at a recent bazaar. The proceeds were added to the accessibility fund which will be used to install a lift which will access the sanctuary & the fellowship hall in the lower level. Shirley will take custom orders with all proceeds going to the fund.